Services : Advertising & Safety Alerts by Escalator Wrapping
Wrapping to an Escalator (Step and Riser)
Advertising, guiding, leading
Wrapping allows Step and Riser to transform into a medium of advertising and guidance.
With a riser, you can use advertising and promotion with easy-to-understand and alive even in the distance, and with steps, you can expect high advertising effects because it easily can be seen while passengers are getting on and off.
Use at transportation facility
Station media and area media
Special event and travel information
Passenger instruction sign
Commercial facilities use
Event and sales promotional tools
Tenant linked advertisement
Instruction to the upper floor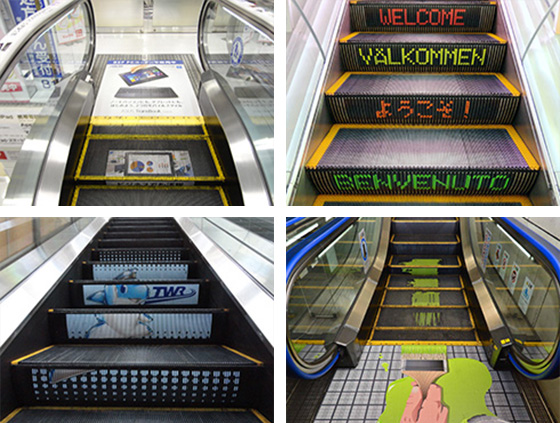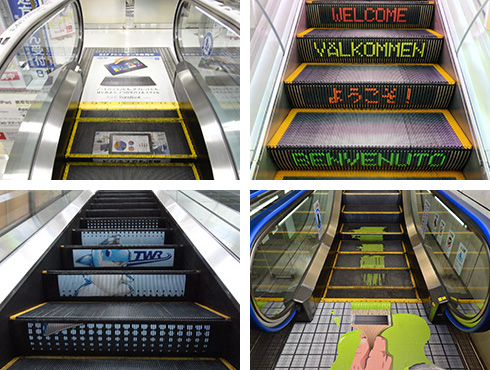 Safety improvement and alerting
Display an alert on the riser or step by wrapping. It can be used to improve the safety of escalators and prevent accidents.
Prevention of falling accident due to barrier-free
Improving the manners of escalator users
Prevent walking while using the escalator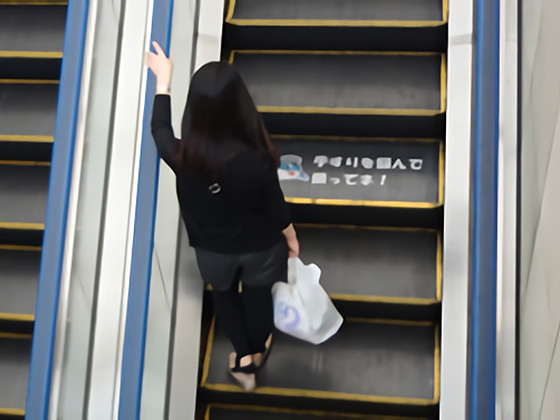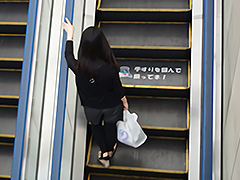 In particular, wrapping of steps is effective for improving safety for the following reasons.
1)Alert the elderly and children and prevent accidents


A warning message on the riser section (rise part) can be an alert to the passengers. At the same time, the movement of the escalator is easy to understand.
Many escalator accidents occur in children and the elderly. Children may fall due to unpredictable movements, and seniors may fall because they can not keep up with escalator movements.
A warning sign is valid for preventing an accident.
2)Promote compliance with escalator usage rules

Clarify the "safety zone" of the step part (the boarding part).
There are standard rules and manners to use escalators, but there are many things that can not be observed enough as they are not strict.
It is possible to prevent a considerable number of accidents by merely keeping "stand in the safety zone of the step part" and "hold on the handrail."
Therefore, putting the mark of the safety zone in the step and putting the warning sign in the riser allows to promote the recognition and spread of the rules.
3)Step exclusive film that does not prevent getting on and off

A particular strong adhesive film jointly developed by 3M Japan and AMS is used for wrapping on the step.
The film on the graphics printed is finely cut into strips, and the film is attached only to the recessed portion of the step (the boarding part) or the riser portion (rise part).
You can also peel it off and restore it to its original shape.
Three features of escalator wrapping
Providing information on the handrail and step of escalator reminds passengers of attention of getting on and off. It can be expected to be used as an extremely effective advertising medium while enhancing the safety of the escalator.
[High visibility]

Each escalator user sees surely
[Moving space sharing]

Advertisements and signs share space with users and move simultaneously
[High appeal effect]

When meeting advertisements, it can be effectively appealed because there is little other visual information
Recommended presentation period for step graphics
About 3 years outdoors
About 5 years indoors
Other Escalator Wrappings
Handrail
The escalator passenger gets on the handrail and looks at his hand. Moreover, while the escalator travels, people and handrails are together.
Therefore, by wrapping the film on this handrail, it can be used for a variety of applications such as advertising, guidance signs to sales areas, and alerting for accident prevention, for three months to one year.
For wrapping handrails, AMS also offers the unique materials exclusively developed jointly with 3M Japan.
Toshiba Escalator, a Japanese manufacturer officially certifies this.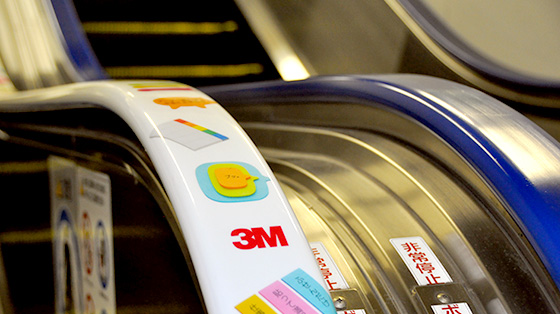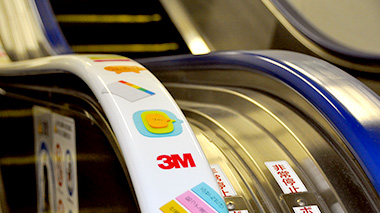 Individual films exclusively for handrails have the following features
Durable, flexible and stretchable film

A flexible, stretchable film that can handle the threedimensional movement of the handrail.
The filmsurface did not change in the 6 months 24-hour test.
It does not remain adhesive residue when removing

Even when removing (film peeling) after posting, it does not affect the handrail surface, and no adhesive remains.
No impact on escalator drive

The film has not been shown to affect the escalator drive in the 6 months 24-hour test.
Environmentally-friendly film material

The film material is made of polyurethane. In consideration of the environment, no toxic gas is emitted during incineration.
Side Panel
Not only the whole paste but also partial paste is possible, of course.
If it is a glass surface, you can also use an inkjet output film as a transparent film.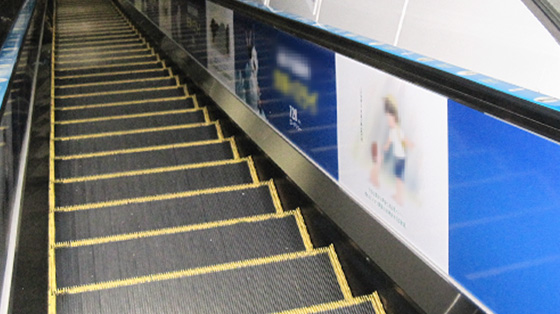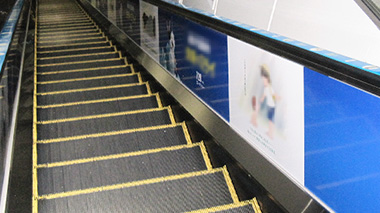 Skirt Rail
Depending on the model, it can also be installed on skirt rails.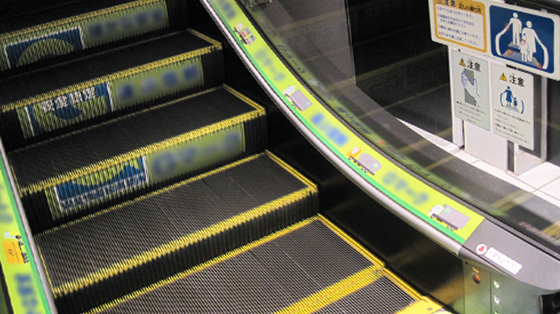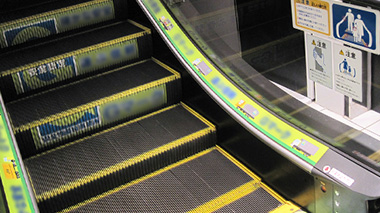 Landing Plate
Not only the whole paste but also partial paste is possible, of course.
Because the film material uses a special non-slip special laminate for the floor, there is no risk of falling, and it is safe.
As the film also glues surface with removability property, it can be peeled off cleanly after the usage period without adhesive residue.
Typical Installation Case Example
Please feel free to get in touch with us
As a professional with considerable knowledge and experience,
Asai Marking System can deal with various demands.
We welcome hearing from you about any concern!